SAN ANTONIO, TX - Mobideo and INVISTA presented Case Study: How Digital Turnarounds at INVISTA Improved Execution at the AFPM Summit on October 18, 2022, in San Antonio, TX on the topic of Digital Turnarounds at INVISTA.
Mike Goranson, Turnaround Execution Manager at INVISTA, spoke about how a paper-free environment reduced data input and automated reporting on their turnaround. "We used to always have paper, at the end of the turnaround and run around scrambling because 3 or 4 of them were misplaced, lost, or blew away! Now we are digitalized with Mobideo and it's phenomenal." He continues talking about how digitalization has increased efficiencies with the approval process on change orders as well, "it would take us days, sometimes even a week, waiting for an approval. At 9:21 that night, 8 hours later, we had all signatures." Goranson said about a specific example of improving the speed of their approval process for discovery work during the turnaround.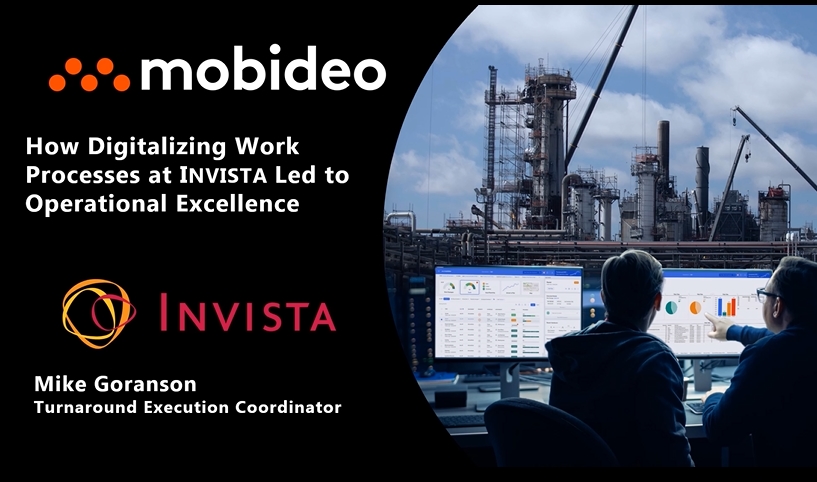 Another key factor Goranson and Goulet touched on during the presentation was the fact that you can't improve what you don't measure. You can read more about tracking and measuring KPIs during Turnarounds in our White Paper Are you Ready for Your Next Turnaround?
To view the entire AFPM presentation, click the image below or visit https://youtu.be/YcC3hjg8MgA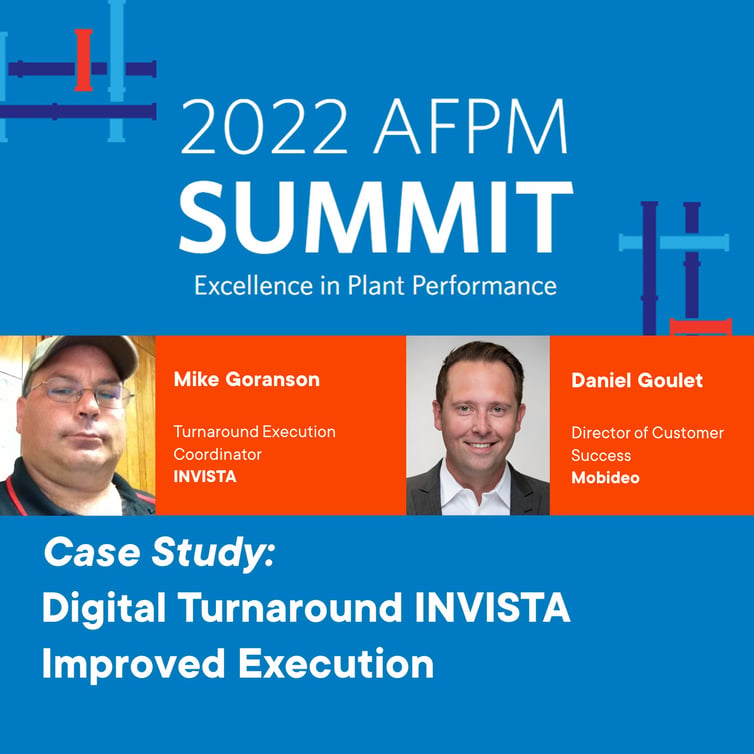 Case Study: How Digital Turnarounds at INVISTA Improved Execution
Mike Goranson, Turnaround Execution Coordinator, INVISTA
Daniel Goulet, Director of Customer Success, Mobideo
Hear how INVISTA implemented a mobile work execution platform to improve their real-time visibility and performance during their Shutdown, Turnaround, Outages (STOs.) An overview of the case study will show how digitalizing work process led to operational excellence by:
Connecting workers and enabling them to digitally receive detailed task definitions and supporting work package information in the field
Connecting Managers and enabling them to receive real-time activity status information highlighting risks and supported better decision making
Enabling data-driven Contractor Performance Management
About the Event:
Presented live on Tuesday, October 18, 2022- 12:30pm CST - Reliability, Maintenance, Turnaround Track
AFPM Summit is the world's premier refining meeting, assembling key executives, decision-makers, and technical experts from refining businesses, technology providers, contracting and consulting firms, and equipment manufacturers around the world.
More info about AFPM Summit: https://summit.afpm.org/
Whitney Flora - Marketing Manager
Whitney is a talented full-stack marketer and excellent team player with outstanding social skills. As Marketing Manager at Mobideo, she sees her role as integral to the company's success. With over 15 years of experience in developing and implementing marketing programs and planning corporate events, she constantly seeks new ways to build awareness and execute marketing strategies that are aligned with company strategy, commitments and goals.