SAN ANTONIO, TX - Join us in person at the 14th edition of the Chem/ Petchem and Refinery Shutdowns and Turnarounds Conference held in San Antonio, Texas, August 2 through 4, 2022 to hear case study presentations from Dow and INVISTA.
Hear more at: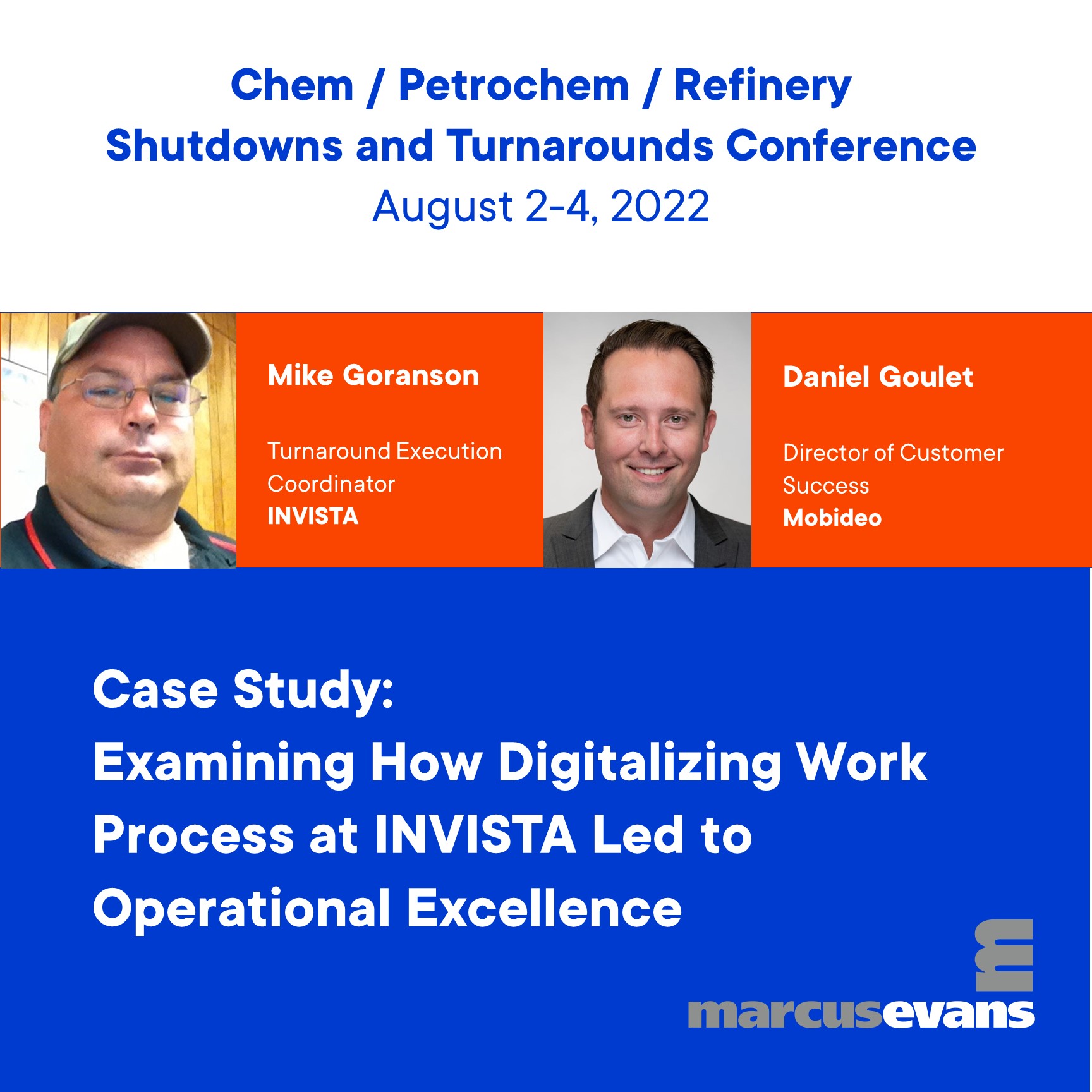 Day One | Tuesday, August 2nd | 4:15 to 5:00 pm | Case Study
Examining How Digitalizing Work Process at Invista Led to Operational Excellence
Mike Goranson, Turnaround Execution Coordinator, INVISTA
Daniel Goulet, Director of Customer Success, Mobideo
Implementing a mobile work execution platform to improve their real-time visibility and performance during STOs

Connecting workers and enabling them to digitally receive detailed task definitions and supporting work package information in the field
Empowering managers to receive real-time activity status information highlighting risks and supporting better decision making
Enabling data-driven Contractor Performance Management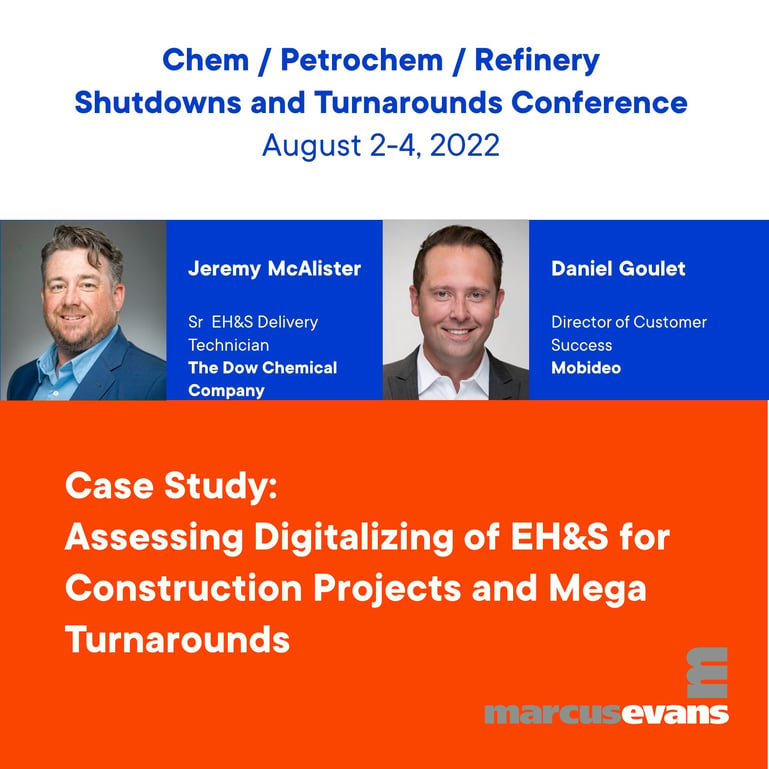 Day Two | Wednesday, August 3rd | 9:30 to 10:15 am | Case Study
Assessing Digitalizing of EH&S for Construction Projects and Mega Turnarounds
Jeremy McAlister, Senior EH&S Delivery Technician, The Dow Chemical Company
Daniel Goulet, Director of Customer Success, Mobideo
Examining how Dow is utilizing a Connected Workforce platform to transform communication and performance of field activities
Focusing on connecting existing systems, data, and people to optimize complex work processes
Empowering collaborative teamwork: managers receive real-time visibility and insights into the most detailed elements of all remote work activities – including inspections, EH&S, and contractor management
About the Conference:
Chem/ Petchem and Refinery Shutdowns and Turnarounds Conference
Outage Management for Power Plants
August 2-4, 2022 | San Antonio, TX
Register Here
These two jointly held marcus evans conferences will provide thought provoking insights for charting a new path for the outage and turnaround industries, circumventing high lead-times and material costs by using non-traditional procurement and value stream techniques, and minimizing costs and budget overages through techniques like detailing prescriptive criteria in premise documents, harnessing remote technology, and much more.
Whitney Flora - Marketing Manager
Whitney is a talented full-stack marketer and excellent team player with outstanding social skills. As Marketing Manager at Mobideo, she sees her role as integral to the company's success. With over 15 years of experience in developing and implementing marketing programs and planning corporate events, she constantly seeks new ways to build awareness and execute marketing strategies that are aligned with company strategy, commitments and goals.