Turnarounds: Frenzied Failures or Streamlined Accomplishments?
Long-term planning. Sleepless nights. An interruption to home life. Coordination of thousands of people, assets, timetables and budgets. Managing change quickly, practically on-the-fly. All of these (and many more) describe the execution of turnarounds in industrial workplaces, as businesses embark on a race against time to get equipment up and running, and back to production.
In most settings, turnarounds are all about 24/7 pressure. They are adrenaline rushes that revolve around non-stop swings between order and disorder, excitement, invigoration, challenges and demands. I know because I work with owner-operators in asset-intensive industries to support the execution of their turnarounds.
But do turnarounds have to be negative experiences, typically out-of-budget and late on timetable? Not necessarily. Watch this video about a digitalized turnaround. It shows that with the correct tools, turnarounds can be exciting projects of accomplishment, aligned with Brazilian novelist Pauli Coelho's comment: "The adrenaline and stress of an adventure are better than a thousand peaceful days."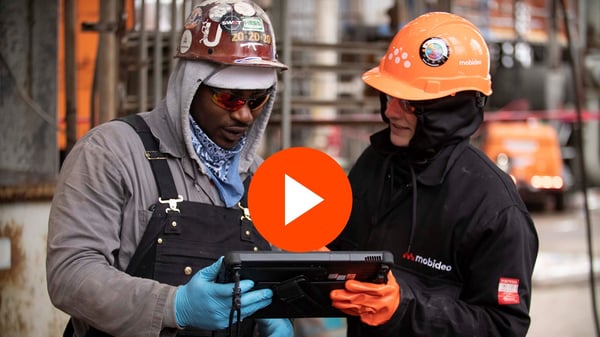 For me, Mobideo's approach to turnarounds reflects the thoughts of American author Neale Donald Walsch: "Life begins at the end of your comfort zone". Even though they are fraught with pressure, turnarounds can be made more streamlined and efficient through the integration of technology and digitalization.
Turnarounds: The Ultimate Experience, the Ultimate Adrenalin Rush?
Last month, just before the introduction of the COVID-19 pandemic restrictions, one of our customers – the Delek US Big Spring Refinery in Texas, USA – completed a turnaround focused on the inspection, repair and maintenance of the whole refinery. Spanning a total duration of 73 days and involving a budget in excess of $130 million, the turnaround included more than 25,000 P6 activities and approximately 414,000 planned man hours.
Delek US integrated the Mobideo Platform for the digitalization and management of its work processes across the entire organization. During the turnaround, more than 180 users – from inspectors, trackers and discovery personnel to planners, schedulers and sub-block/block managers - used the Mobideo Platform to ensure compliance with regulations and best practices; receive real-time situational awareness for insights and better decision-making; improve productivity and efficiency; and facilitate continuous process improvement.
The learning cycle and transition to become a connected workforce – use of the Mobideo App (by workers, contractors, inspectors and supervisors) and the Mobideo Control Center (by managers) – was fast and effective. Use of the Mobideo App on any mobile device enabled Delek US workers and contractors to work with digital checklists to enter field data much faster than ever before, as well as increase the reliability of the data and ensure its real-time availability, online. Overall, workforce connectivity proved the effectiveness and benefits of management based on real-time data, i.e., less wasted time, easier implementation of change management in schedules, personnel and assets.
What Do Delek US Personnel Have to Say About Their Last Turnaround?
"We incorporated Mobideo as a tool to help us improve our ability to see the things that are happening on a real-time basis… The data and the information that we can see in real-time has helped tremendously. From my experience and being involved in many turnarounds, [Mobideo delivers] a markedly calming effect on the organization executing. It is amazing … we know in real-time the status of each activity ... look at the data and make much better decisions." Dave Maher, VP & GM, Delek US Big Spring Refinery

"Mobideo coming into the picture with their technology made it so much better… with Mobideo, you know exactly where you're at." Corbin Overman, Turnaround Coordinator

"Mobideo has the potential to change the way we've been doing turnarounds/projects in the past." Adam Caillavet, Corporate Planning & Scheduling Manager, Delek US Holdings, Inc.

"It [the Mobideo Platform] allows us to really see the picture that the inspector or whoever created the repair recommendation in the field saw. It allows us to see what they saw…. and enables information to be available to all parties immediately after data entry. In the past, information was [only] available as documents were completed and delivered, causing a delay in information availability." Mike Eliot, Discovery Team Manager

"We get more detailed analytics that allow us to make decisions from a leadership standpoint that ultimately save us time and money." Keith Etue, Corporate Maintenance Reliability SME, Turnaround Block Manager
Sounds exciting? Too good to be true? Watch this video about the turnaround. I get an adrenaline rush every time I see it!
Eran Burns - COO & Head of Customer Success
Eran has vast experience leading customers through the digital transformation journey, developing strategies and operational methodologies and maintaining cost effective workflows. Always taking into account how decisions, words and actions are going to affect other people, his approach to customers is focused on providing empowering and engaging experiences in all interactions with Mobideo and throughout the lifecycle of our product. Eran's dedication and commitment are conveyed in his motivation and passion for his work, and the fact that he cares about people and achieving constructive, productive outcomes.